W. A. Mozart Sonate G-dur KV 357 / 497a 2nd movement
C. Guastavino Muchacho Jujeno
Antonio Sanatana reached out to us with his marvelous Brazilian Suite, we could not resist recording it.
While warming up in Rostock we found that lovely angle to record Samuel Barbers famous Two Step from the Souvenirs.
Sometimes we vlog, and that's what we brought from Linz! After a wonderful meeting at Bechstein Centrum and before our concert in the Brucknerhaus.
A wonderful memory of a little Hauskonzert at our professors house in Bulgaria Milena Mollova. Rachmaninov 1st Suite.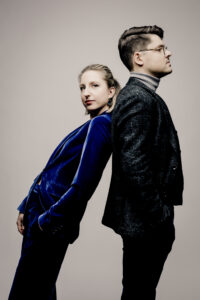 Pieces by Cruixent, Senkov, Debussy and Ravel.